Click any picture for a larger view.

Standard Rhode Island Rake

Long Island Rake
Bull Rakes
Rhode Island Rake: Designed and built for Rhode Island clam diggers years ago, the Rhode Island, or "square-back" rake has become one of the most widely used rakes on the East Coast. We offer this style in tow variations: standard Rhode Island or the Rhode Island "Fastback" (not pictures). Noted for its larger holding capacity, it can be used in various types of bottom with either short, medium or long teeth. Extremely versatile, it is a good all-purpose rake.

Long Island "Bubble" Rake: A standard for many years, the bubble or "teardrop" rake is also very versatile and can be used with various length of teeth. The pole setting for this rake is not quite as critical as the Rhode Island style, although its holding capacity is somewhat less. Some diggers find this rake to be advantageous when working on sparse clams or working up steep banks. This rake can be adjusted for fishing in really hard bottom.

Both styles are available with the "Decker" modification for an additional $15. See the description of the "Decker" Modification below.

"The Works" means all stainless rake basket.
---
Suitcase and "Linnell" Pocketbook Rakes

Suitcase Rake

"Linnell" Pocketbook Rake
Suitcase Rake:
With an extended basket size of about six inches, diggers might prefer this rake because of its increased capacity. Some say it is more efficient than the Rhode Island, although it tends to work better in hard bottom. The use of skids is helpful if the rake is burning into the bottom. For the experienced digger.
"Linnell" Pocketbook Rake:
A modified suitcase style developed by Chatham fisherman John Linnell and Ron Ribb. This rake, with its slightly shorter basket than the suitcase, still gives an increased capacity over the Rhode Island, but is not a heavy to pull.
Both styles are available with the "Decker" modification for an additional $15. See description of "Decker" Modification below.
"The Works" means all stainless rake basket.

---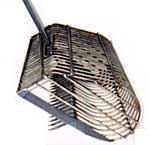 Wireback or "Decker" Modification:
Designed for use in bottom with concentrations of dead shell, stack shells (deckers), grass and mixed debris, the wireback rake helps the commercial digger to keep bottom garbage out of the rake, thus allowing the rake to work on hard clams without choking. Another advantage to the wire back is that it may be used with less pole due to the unique positioning of the tang or shank of the rake. This is not an all-purpose rake, but given the right application in the right conditions, the wireback can save a lot of time and effort.
The "decker" modification can be applied to various styles of rakes including the Rhode Island, Long Island, Suitcase and Pocketbook for an additional $15.
---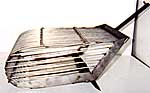 Virginia Harvester Rake:
A rake designed with input from fishermen in Virginia for use on shellfish farms and grants, standard models of the harvester are offered in 16 and 18 tooth sizes. Spacings on these are 3/4" between basket rungs, and 7/8" between teeth. Other sizes of rake baskets and spacing are available upon request.

---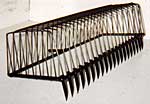 Soft-Shell "Box Style" Clam Rake:
This rectangular box-type basket rake can be fabricated with either loops or teeth (customarily 2" long) for special applications. Basket rungs can be set at 9/16, 3/4 or 7/8 apart, and are offered in several basket sizes.

---
Overboard or "Jerk" Rake:
Featuring a full-bodied, lighter weight basket, this rake can be made using either a six foot "heavy duty" wooden handle (Overboard style) or with a tang for fitting to any aluminum T-handle (Jerk style). These rakes customarily come in 11, 13 or 15 tooth sizes. We also offer a "harvesting" version of this design: narrower spacing on the basket rungs and/or 15 teeth on a 13 tooth frame; popular with some of the aquacultural fishermen.

---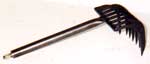 Hard-Shell Clam Digger:
This heavy duty digger can be fitted to either a steel pipe or wooden handle, and is a variation on our Chatham scratcher. Tines may be spaced and modified according to your specifications and applications. Extremely effective when fishing among rocks, these diggers can come with longer tines, popular with our customers in Washington state (the "Washington State Digger," not pictured). "Rooster" style has ends tines inset, "Super-Rooster" has 2 end tines inset.
---
Please see the "Ordering Information and Policies" page for important information about placing orders.